John Manuel, Director of Financial Services has recently been named as one of five national finalists in the 2013 Australian Private Banking and Wealth Awards under the category Outstanding Wealth/Investment Adviser.
The awards are hosted by the Australian Private Banking Council with the aim to recognise individuals within private banking and wealth services who are excelling in their profession.
As a tremendous personal accolade, John was the only adviser from a non institutional firm to reach the finals in any category.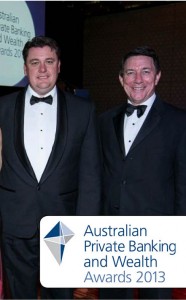 The process involved in reaching the final was an extensive one. All nominees were asked to prepare a paper on a multi layered case study provided by the Council. Nominees were also asked to provide examples of strategic solutions implemented over the last 12 months to assist clients in meeting both short and longer term financial goals. Finally, John attended a searching interview with the judging panel comprised of some of the industry's most experienced thought leaders. Outstanding service, understanding of individual client needs and relationship management were key criteria considered.
At Prosperity we pride ourselves on providing best of breed strategic advice to our clients and it gives us great pleasure to see John recognised by his peers at a national level.