Don Lee, Luke Malone, Martin Zhao and Gavin Fernando are Directors of Fountainguard Prosperity's Asian Business Desk team who provide a full range of accounting, financial and wealth management advice to the Chinese market.
As most of us brace for depths of winter, having recently returned from a whirlwind ten day, invest in Australia roadshow to China things are only getting hotter over there.
As the Chinese enter their summer my recent travels there taught me that the Chinese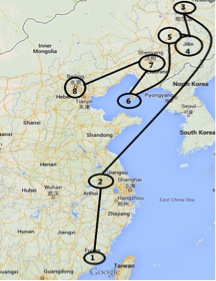 entrepreneurial spirit and passion for growth is stronger than ever and things are likely to
continue to heat up. What do I mean by this? Well it was obvious to me travelling through cities including Guangzhou, Xiamen, Nanjing, Dalien, Harbin, Jilin, Changchun, Shenyang and finally to Beijing in northern China that the Chinese people and China never stands still.
On a popular Chinese social media site, one of the most-tweeted lines is: "If we don't pursue dreams today, we will be too old to do so tomorrow." The pace of change and growth in China is phenomenal and a significant dream for many Chinese is to expand their business interests into other markets while also giving themselves a safe haven for some of their wealth and an opportunity to live or spend an amount of time in a western environment.
The purpose of our trip was to further strengthen our relationships with immigration agents and their clients in these cities. We presented to over 400 interested people during our visit with a number of our presentations sponsored by the private banking arms of Bank of China and HSBC. In our presentations we partnered with an Australian immigration lawyer to outline to these interested people what it is like living in Australia, the business environment, the types of visa's available and how we can help them and their families with a smooth transition for their business and family lives in Australia.
A poll of Chinese millionaires reveals that 65% of them want to gain permanent residence in overseas Countries. They give various reasons for wishing to do so such as a desire to access better education for their children, a desire to escape the extreme pollution found in much of China and legal uncertainty about the status of their wealth in China. After twenty years of rapid economic growth, it is estimated that there are some one million US dollar millionaires in China. Hurun, a Chinese company based in Shanghai interviewed 400 such millionaires about their attitudes to emigration. The poll found that 65% of those interviewed wanted to leave the country or, at least, to obtain a permanent residence visa which would enable them to live elsewhere if they wished to. 30% of those interviewed had already acquired foreign permanent residence visas.
Australia is an attractive proposition for many wealthy Chinese and it has been reported that Chinese make up 91% of the significant investor visa applications in Australia.
Australia is an attractive proposition for many wealthy Chinese and it has been reported that Chinese make up 91% of the significant investor visa applications in Australia. And it has never been more attractive. Particularly in northern China the natural attraction for many Chinese has been Canada and the US. For many years Canada ranked among the top choice for Chinese investor-immigrants given its relaxed immigration policies and generous health and education systems. But in February this year Canada scrapped its longstanding Immigrant Investor Program, which allowed individuals to effectively gain permanent residency. Australia is a real alternative for these disheartened people and as we moved through China we spoke to many who will now proceed to an application in Australia.
The Australian significant investor visa program which was announced in 2012, has so far had 1,446 EOI's (expressions of interest), 928 Applications and 255 SIV Grants been issued as at 31 May. The approval rate has climbed from 29 to 40 per month over the past two months and the Government has recently announced they are looking to speed up the typical 4 to 6 month application process to further encourage applications. The visa and permanent residency requires an applicant to invest $5m in Australia, be that in an active trading business or approved managed funds / cash assets. The invested funds need to remain in Australia for a period of four years and the applicant is required to spend 160 days in Australia over four years before gaining permanent residency.
While there are other compliance obligations regarding verification of source of funds and other financial and tax requirements the visa in itself is relatively free of red tape if the applicant has the capital to invest. At our presentations we discovered that there were numerous individuals who found this proposition very attractive and there are a number of individuals proceeding to application stage. Australia is also highly attractive given our climate, education and healthcare systems and financial stability.
You may ask how do you capitalise on this wave of Chinese investment. While many investment banks are developing SIV compliant managed funds and other products for applicants, and this will be attractive to many seeking a passive wealth diversification strategy, we have found that the entrepreneurial spirit in China is very strong. Many of our new clients are seeking active business interests in Australia. Investment in property development, agriculture and wineries while at the top of many applicants lists is certainly not the be all and end all for many.
We met individuals with a vast array of business interests across a diverse range of sectors who were keen to build relationships in Australia and partner with the right businesses or contribute capital to new business ventures. In this century, the Asian century, the region in which we live will become home to most of the world's middle class. The Asian region will be the world's largest producer of goods and services and the largest consumer of them. While Australia has strongly embraced the resources boom and the benefits in recent times we must continue to build strong relationships with China and Asia generally to not only grow economically but to further build on the social and cultural ties in the region.